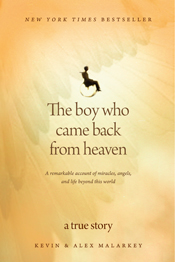 "The Boy Who Came Back From Heaven" By Kevin & Alex Malarkey

When Kevin Malarkey is distracted while driving and gets into a car accident with his young son in the car, his entire life changes. Watching his child fight for survival, yet being told repeatedly that miracles would happen and his son would not only live but be completely healed, cause his and his wife's faith, and those around them, to grow to amazing proportions. When Alex miraculously wakes up and struggles to tell them where he spent his time during his coma,  amazement abounds for everyone around him.
My Reactions
This story is a lot like that of my amazing nephews story, who was in a horrific car accident when he was 5, when my brother was distracted while driving. We were told repeatedly that first, he wouldn't make it. Then when he proved he would, we were told he will never wake up, and if he does he will not really be there. Then when he woke up, we were told he would never walk or talk again… and over and over he (and of course God, along with the hundreds of people that lifted him up in prayer) has proven his doctors wrong. Today he not only talks, but walks, and lives a pretty normal teenage life. He is very quick witted and always ready for a debate on which of us is funnier. So I know that the things, medically, that happened in the story can really happen. God can perform miracles like these in The Boy Who Came Back From Heaven.  As for the rest… well you either believe in heaven or you don't. If you do, read the book for an instant pick me up. The story is amazing. The things that God did, the people that reached out to help, the prayer warriors that fought minute by minute through this boy's story, will make you cry, laugh, and want to jump for joy. I can't tell you whether it is truly a "true" story or not, but that's not my job. I am just here to tell you about a good book that I read.
I was definitely inspired by The Boy Who Came Back From Heaven and I definitely recommend it for anyone who needs some inspiration, or a reminder that God really does care, and he does work in lives, even through tragic times.
You can pick up your own copy of The Boy Who Came Back From Heaven, By Kevin & Alex Malarkey at Tyndale House Publishers here for $24.99.
Be Blessed…
~Katie~
Misadventures Of A Family Of 8

Tyndale House Publishing provided me with a complimentary copy of this book in exchange for an honest review.
Click Here To View My Disclaimer Page...
Related Posts via Categories