Sponsored Click Here for more info...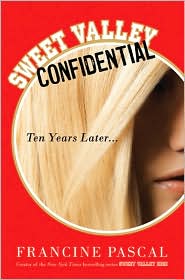 As a teen, I loved following the dramas of the Sweet Valley High twins Elizabeth and Jessica. I read the whole series, and loved each book! I was recently given the opportunity to "reunite" with my old friends in their brand new book Sweet Valley confidential Ten Years Later….! The same twins, Elizabeth and Jessica are the main characters and they are joined by all the old cast of characters and a few new ones as well. It was good to catch up with my beloved "friends"! I think that if you were a Sweet Valley High fan, then you will enjoy the newest installment of the story, I sure did!
The Sweet Valley High series had everything important to a young girl – perfect teenage blonde twins, a beautiful California bedroom community, hot jocks, bad boys, sweet cars, school dances and good old-fashioned kissing. Ten years later, which characters will be back? Whose heart will be broken?
Synopsis:
Ten years after graduating from Sweet Valley High, the Wakefield twins have had a falling out of epic proportions. When Jessica commits what can only considered a complete and utter betrayal, Elizabeth flees to New York to escape the pain and immerse herself in her lifelong dream of becoming a serious reporter. Things seem to be going well: new job, new friends, new romances, but still there's a burning anger inside that won't die.
Jessica remains in California, dealing with the fallout of her heart-wrenching choices and holding onto what semblance of normalcy she can. She has a career she loves and friends she's known forever, but she misses her sister, her oldest and best friend. Sweet Valley remains the beautiful California home of her youth, but passions are beginning to arise that will likely cause earthquakes in this otherwise peaceful town.
Despite the distance between them, the sisters are never far from each other's thoughts. Jessica longs for forgiveness, but Elizabeth can't forget her twin's duplicity.
Uncharacteristically, she decides the only way to heal her broken heart is to get revenge. Always the "good" twin, the one getting her headstrong sister out of trouble, Elizabeth is now about to turn the tables…
About the Author:
FRANCINE PASCAL is the creator of the Sweet Valley High series and one of the world's most popular fiction writers for teenagers and the author of several best-selling novels, My Mother Was Never A Kid (Hanging out with Cici), My First Love and Other Disasters, as well as the series Fearless. Her adult novels include, Save Johanna! and If Wishes Were Horses (La Villa) and the non-fiction, The Strange Case of Patty Hearst. She also collaborated on the Broadway musical, George M! and has also done revisions on the musicals Carnival and the English version of Mack & Mabel.  As a theater lover and Tony voter, Ms. Pascal is on the Advisory Board of The American Theatre Wing.  Her favorite sport is a monthly poker game. She lives in New York City and France.
You can connect with Sweet Valley Confidential on Facebook, Twitter and on the website. You can also purchase the book at these major booksellers:
SPONSORED Click Here for more info...